Baby Safety Information
70% of accidents happen in the home

Discover the most frequent hazards and convenient solutions now to make your home childproof
THE CHILDPROOF KITCHEN
The kitchen holds great appeal for children, as hardly any other room in the home has so many exciting things to discover. Children watch whilst food is cooked on the hob, steam rises and odours spread. The cupboards contain lots of interesting equipment and ingredients – how can a child resist this temptation? Therefore the kitchen is a place where lots of dangers lurk for a curious child.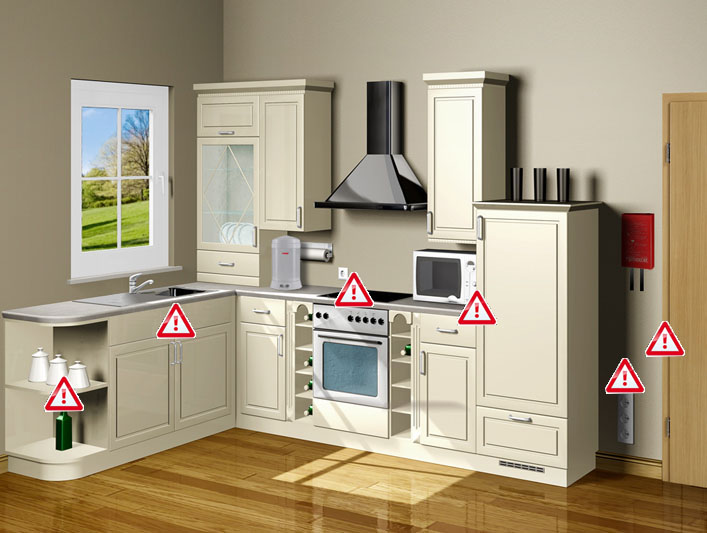 OVEN DANGERS
PROTECT CHILDREN AGAINST BURNS AND SCALDS AT HOT OVENS!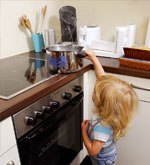 A hot oven is a typical hazard in the kitchen. Here children can easily reach scorching hot areas or be burnt by hot, rising steam. The consequence can be large burns to the small body. Just 1 cup of hot liquid is enough to scald 30% of a child's skin. Not only the inside of a hot oven is dangerous, but also the hot oven door. Due to its low height children can already reach the oven door easily, when crawling. If the oven is in use at that time, the door can become dangerously hot.

PUT A LOCK TO DANGEROUS OBJECTS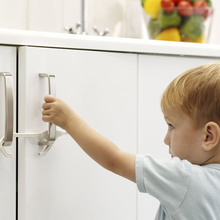 The contents of presses and drawers are particularly exciting to little ones. Once they can crawl and walk, their curious hands can easily reach handles, gaining access to objects they should keep away from. They can also easily pinch their fingers if the drawer or door closes whilst the fingers are still in the way. Safety locks prevent doors and cabinets from being opened, protecting your child from dangerous objects and pinched fingers.

SAFETY HAZARD: DOOR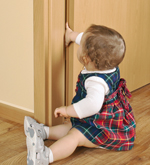 Before you know it, your little munchkin has begun to crawl and started exploring the world. This curiosity is quite natural. But at the same time, it opens up a whole world of possible dangers. Doors are one of the most common causes of injuries and can be responsible for minor and also major injuries and bruising. Whether due to a gust of wind, or when playing with siblings and friends, doors can slam and shut faster than your child can move the fingers out of the way. There are various ways to make a door child-friendly.

ELECTRICITY:
CAUTION, MORTAL DANGER!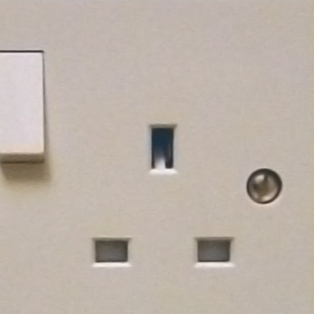 Electrical accidents are among the most dangerous types of accidents, as they can result in life-threatening injuries. An electric shock cannot only result in external burns, but also cause dangerous internal injuries. Apart from electrical devices, unsecured sockets are a serious threat, as they are often located at a low level where they can easily be reached by crawling children and toddlers.

FRIDGE & FREEZERS

Curious kids can often leave fridges and freezers open without you knowing, causing disastrous effects to your food. Avoid access by adding locks to fridges, freezers and other appliances.