TV TIP OVERS: Keeping Everything in Place
To kids, your furniture is like a mountain range waiting to be scaled. Often kids climb to get closer to something they can't reach, like a toy or a cookie jar. But dressers, TVs, and even appliances can tip over and hurt a little climber. That's why it's important to make sure all your furniture is secure. Here's what you can do to make sure everything stays put.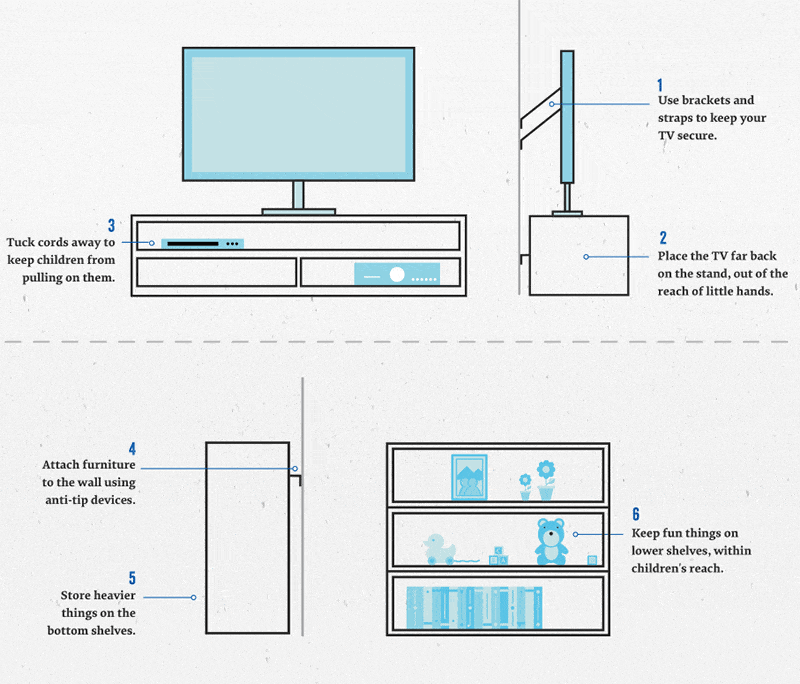 TELEVISIONS
It's best to mount your flat-screen TV to the wall for stability and security.
If you can't mount your TV to the wall, make sure to use brackets and straps to keep it in place on a stand that's secured to the wall.
Use a stand designed for the size and weight of your TV. Shelves, nightstands and dressers are not made to support TVs, especially when drawers are opened.
Keep your TV as far back on the stand as possible so your kids can't reach it.
If you have a CRT-model TV (the kind that looks like a giant box), make sure it's secure too. Just because they're heavier doesn't mean they can't tip over.
FURNITURE
Attach all furniture (desks, cabinets, grandfather clocks, you name it) to the wall using brackets, braces, or wall straps.
Install stops on drawers so your kids can't pull them all the way out when they're looking through their stuff.
To make furniture even more stable, keep heavier items on the lower shelves or drawers.
Don't keep fun toys, books or remotes in places where kids need to climb up to reach them.
TV & ELECTRICAL CORDS
Tuck TV cords away so kids can't pull on them.
To avoid trips and falls, keep electrical cords out of the way and wrap long cords around cord shorteners.
Use Socket Covers to prevent little fingers playing with electrical sockets.
APPLIANCES
Install anti-tip floor brackets and straps (included with new appliances) to your stove and dishwasher.
Move cookie jars and snacks away from these appliances so kids aren't tempted to climb up to reach them.
Don't hang dishtowels from the front of the stove–kids might yank them and pull down the door.