InHealth Medical Dual Mode Thermometer - Forehead or Eardrum
Winner of BEST BABY THERMOMETER in the Boot's Maternity & Infant Awards 2016
A multi-tasking medical thermometer designed to accurately and quickly detect the body temperature using infrared technology via the forehead and the ear. The Dual-Mode Thermometer provides two temperature modes, °C and °F.
The InHealth Dual Mode Thermometer is suitable for all ages. The infrared functionality makes it easy for parents with young children to take a temperature without them even noticing. It has both a Forehead and an Ear function.
Celsius and Fahrenheit Clinically Tested CE and FDA Approved - Professional Precision & Medical Accuracy
Protect and monitor the health of your child with the InHealth Medical Dual-Mode Thermometer. Designed to rapidly and accurately detect your child's temperature via the forehead or the ear, the Dual-Mode Thermometer features infrared technology that eliminates cross contamination and allows for a continuous temperature taking mode. Featuring the capacity of storing up to 20 temperature measurements, it offers a fever alarm function and an LCD display resolution for quick and easy interpretation.
The Dual-Mode Thermometer features infrared technology designed to quickly and accurately detect the temperature of your infant or young child via the ear or the forehead.
Capable of storing up to 20 measurements at a time.
Features a bi-colour back light LCD screen.
Offers two temperature modes, °C and °F
Has a fever alarm function.
Measurement range for the forehead : 32°C – 42.2°C
Measurement range for the ear: 0.0°C - 100°C
You can even take your child's temperature as they sleep due to the design.
Memory recall of your 20 previous recordings
Fever Warning
Extensive Clinical Data
Tips:
The best distance for forehead detection is 0.2cm.
Hold the button F1, scan the forehead

from one side to the other and then release the button

.
Please ensure the thermometer is at room temperature for about one hour before use and doesn't have a drastic change in temperature.
CONSISTENT AND RELIABLE

temporal Forehead thermometer with Ear Thermometer function (Dual Mode) - the easiest and most practical way to take a temperature. Clinically calibrated for medical use - Class II FDA APPROVED Medical Device with 510K certificate.

PROFESSIONAL MEDICAL DEVICE

. Reads both Cº and Fº. The only good alternative for the golden standard mercury rectal thermometer for the best price.

FAST AND ACCURATE READINGS

- This Easy to use Thermometer is The finest temperature gauge you can find for all ages. Suitable for Baby, Infant/Toddler and Adult. Taking temperature at night is a breeze with the easy to read screen with backlight that reads in both Celsius and Fahrenheit.

HASSLE FREE

- With just 2 buttons, F1 (Head) and F2 (Ear), this electronic thermometer is very easy to use. The device is ready after 1 second and a loud enough beep will notify you. It comes with fever alarm, it requires no covers and the last 20 readings can be easily recalled.
Batteries included and allows up to 3000 readings
Backlit Digital display, easy to see during the day or at night
An Audible alarm to indicate temperature is above 99.5ºF/37.5C
Safety Information: This thermometer is for all ages. For New-borns we advise to not use the ear thermometer function until an age of 6 months, and use the forehead function solely for 'scanning' temperature. Pediatrician advice: for new borns until 6 months old, use a rectal thermometer. This is due to the anatomy of a new-born child and the temperature regulation in a new-born.
Why measure from the forehead?
The forehead is an ideal place to measure body temperature since the temporal artery is close to the surface of the skin and easily accessible for reading. The temporal artery is linked to the carotid artery, which supplies blood to the brain's temperature control centre.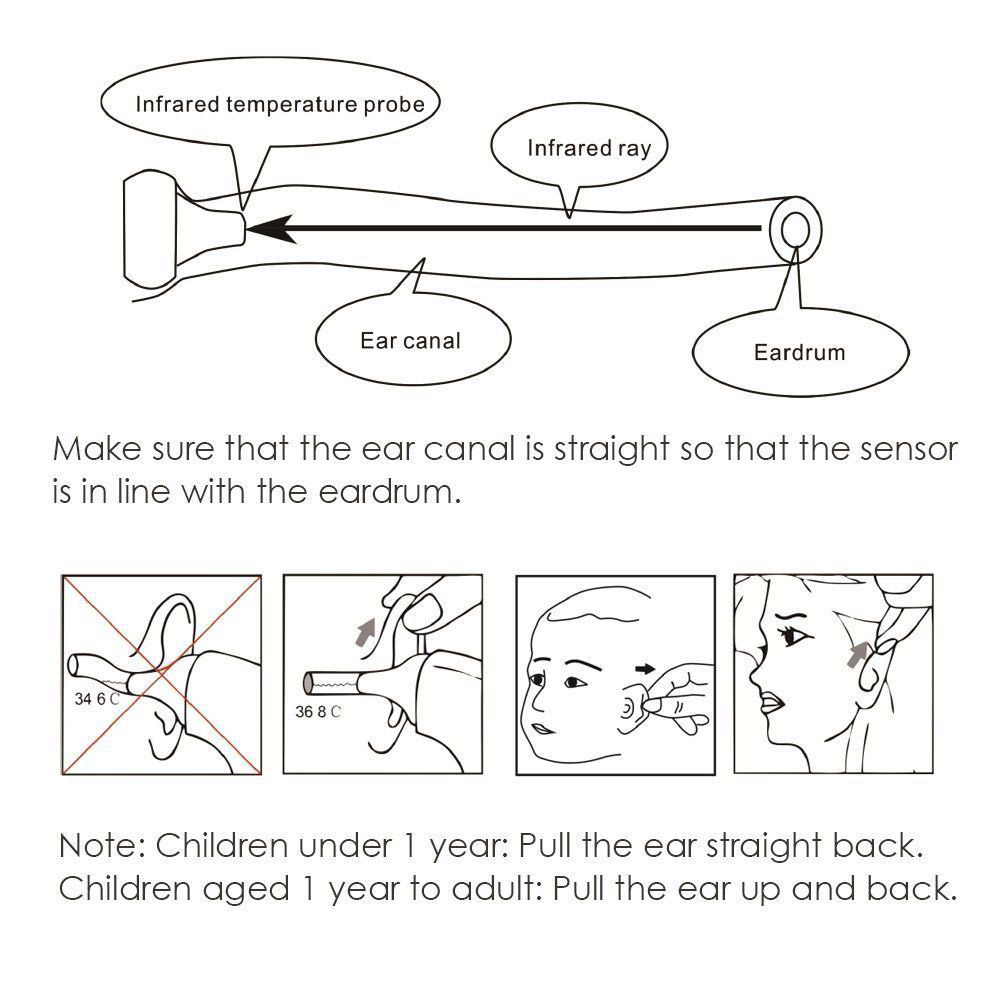 Hazards and Cautions
Temperature is not the only indication of illness. If you feel unwell, whether or not you have a high temperature, seek medical advice.
Please read the instruction booklet before use.
Do not use outdoors or near any sources of heat.
Do not drop the thermometer or expose it to any impacts.
Store in a dry place -20⁰C to 50⁰C.